Address:

2-1-2 Koenji-Kita, Suginami-ku,
Tokyo 166-0002, Japan

Tel:

+81 (0)3 3223 7500 (admin)
+81 (0)3 3223 7300 (box office)

Fax:

+81 (0)3 3223 7501

Web:

http://za-koenji.jp/

Opening hours:

9:00a.m.-10:00p.m.
ZA-KOENJI will close for one week during the New Year holiday.

Total floor space:

4,980m2

Ground floor:

1,108m2

Lot area:

1,650m2

Structural type:

ferroconcrete partly with iron frame

Number of floors:

6 floors; 3 below ground and 3 above ground

Main facilities:

three theatre spaces, a literary archive and café

Designed by

Toyo Ito

Managed by

Creative Theatre Network, a non-profit organization

Open

May 2009

ZA-KOENJI is located in the west of Tokyo and is accessible by rail. The nearest train station is Koenji on the JR Chuo Line. It takes 5 minutes from the station to the theatre on foot.

Use Adobe Reader® to view, search, and print PDF files created with Adobe® Acrobat® software. Learn more ?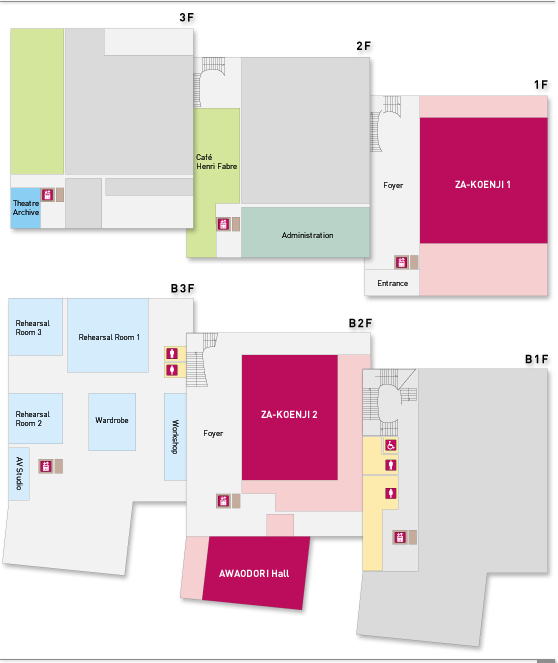 Dimensions:
Total area 440m2, Total space excluding seats (w.20.3m x d.20.3m x h.9m)

A flexible small scale theatre situated on the ground floor. The standard configuration is a seating rake of 230 seats. There is no fixed stage; instead the floor consists of movable panels. The size and shape of the stage and seating area can be adjusted by changing the configuration of the floor panels.

Dimensions:
Total area 330m2, Stage space (w.14.9m x d.7.28m x h.6.3m)

A multi-purpose theatre with fixed raked seating to accommodate 250 to 300 audience members. Situated on floor B2 and accessible by lift this traditional theatre space is well suited to drama, music, dance and live arts as well as workshops and education activities.

Dimension:
Total area 160m2 (w. 9.2~11.0m x d.15.9m x h.5.3~6.6m )

A rehearsal room and studio space, dedicated to the popular Japanese folk dance "Awaodori", a cultural attraction of growing importance in the Koenji area. The hall can also be hired for concerts, dance and drama performances, and as a rehearsal space.

| | |
| --- | --- |
| | The theatre archive is on Level 2. It holds published plays and scripts and other materials relating to contemporary Japanese theatre. Za-Koenji, in partnership with the Japan Playwrights Association, has made over 5,000 works available to the public. We encourage visitors to drop in and use the archive before or after performances. |

| | |
| --- | --- |
| | Open from 11:30am to 7pm Café Henri Fabre is a comfortable space where you can enjoy coffee, tea, lunch, light bites, cakes or dinner in a relaxed setting. The emphasis is on fresh, healthy ingredients, locally sourced and simply prepared. Come and try! |

| | |
| --- | --- |
| | ZA-KOENJI is like a large tent or circus, and the theatre like a town square or forum where people come together: some to see a play, some to study literature, others to express themselves in performance. Some might come to be surprised or to find their own purpose. It's a meeting place for everyone in the community, irrespective of age or sex. May ZA-KOENJI become your favourite place! |

Copyright © 2008 ZA-KOENJI. All Rights Reserved.